I think everyone remembers a fable called "The Three Little Pigs". This is a story about three pigs that build three houses of different materials. One pig, Browny, built a house of straw while the second pig, Whitey, built his house with sticks. They built their houses very quickly and then sang and danced all day because they were lazy. The third little pig, Blacky, worked hard all day and built his house with bricks. A Big Bad Wolf blows down the first two pigs' houses, made of straw and sticks respectively, but is unable to destroy the third pig's house made of bricks. 
The primary moral lesson learned from "The Three Little Pigs" is that hard work and dedication pay off. While the first two pigs quickly built homes and had more free time to play, the third pig laboured in the construction of his house of bricks. 
This is easy, simple, and familiar, but what the connection between this fable and POSITIONING of your business? At first glance – nothing in common. However, in reality, this is THE CLEAREST illustration of the need for business POSITIONING.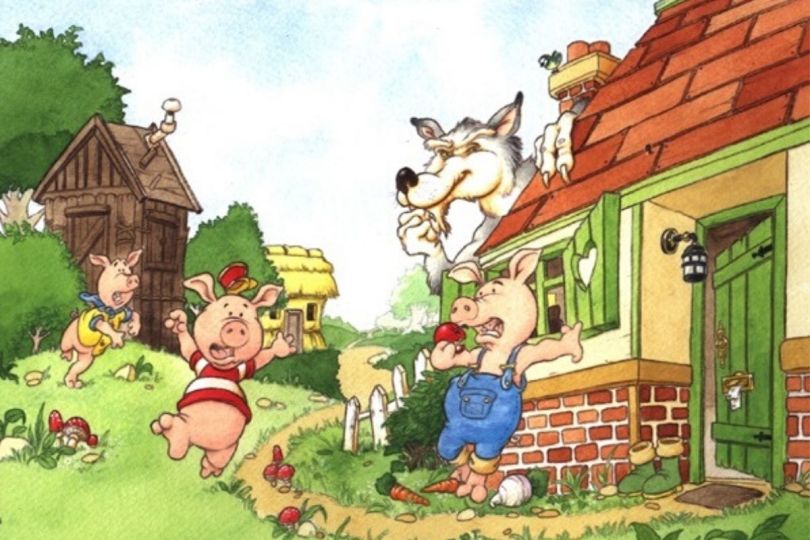 The Three Little Pigs Start Their Business
Newly build industrial area. Companies just move here, but there is no infrastructure created yet. Browny, Whitey and Blacky decide to open their food-related businesses in the area. Good idea! People have to eat and drink every day and this service will definitely be in demand…and so they start.
The first brother: STRAW house.
Browny, the laziest one, choose the easiest way. He bought the van and installed a coffee machine inside (or just rented fully equipped van for this kind of business). Great idea! Now he begins his day early in the morning, riding around the area and selling coffee with small cookies. Good business! A couple of hours a day and he is FREE to enjoy life. What a beautiful idea! 
There is only ONE problem – he doesn't have any sort of connection with his customers. If he came, they bought a coffee. If he was sick, has problems with the van, etc. – customers would look around for another vendor. No one will wait for Browny's van.
The second brother – STICKS house.
Whitey, a bit cleverer than a brother, was more creative and went a little further. Browny sells coffee in the morning, but what do people do in the afternoons? He rented a small place, made a quick renovation, put a few tables and opened a small canteen that sells sandwiches, burgers, drinks, tea and other food. He just wants to FEED the people. Nothing in particular – just inviting people to have something for lunch during the day. This is also a good idea. This type of business is a bit more complicated and labour-intensive, but still leaves enough time for Browny and Whitey to enjoy life.
This is great, but we still have a similar problem here – NO TIES with clients! They are here just to eat, just to satisfy their physical needs. It means that his customers are open to ANY other food/service suggestions, without regret!
The third brother BRICKS house.
Ok, what do we have now: newborn industrial area and our two brothers with their food businesses – coffee van and eatery. Our two lazy brothers are happy – they don't have to work too hard and they have plenty of spare time to enjoy life. Their businesses are doing well: people buy coffee in the morning and sandwiches in the afternoon. But we forgot about our third hard-working brother – Blacky. What is he doing?
He is brainstorming. He wants to open something stable and profitable, a business that lasts for years and will feed the whole family well. But what can it be? If we are talking about the food, ANYTIME another company (bigger, better known) may come and starts serving different types of food, cheaper food, more convenient for this audience products, etc. How can he create a business that will not be afraid of competitors with cheap prices and other types of products? The answer is simple – he has to POSITION his business! He has to do what his customers will LOVE and not settle for any other offers (cheaper, closer, larger). He has to create IDEA for business.
He decides to open a modern coffee shop where he will promote a RELAXING ATMOSPHERE! What does it mean? Here is what he thought: we are located in the industrial area, people come here to work. You can't work without the break. And here is the IDEA! Worked hard – have a nice BREAK with cold/hot drinks, great coffee, selected tea, tasty sandwiches, some hot meals, and CALM AND RELAXING ATMOSPHERE. Yes, in this case, his prices should be higher than those of his brothers as he is selling not only food, but he is also offering a SERVICE  that allows customers to RELAX, ENJOY tasty meals and ESCAPE from the working routine! He invested much more time and money to create and renovate a fairly large space for a unique OASIS of calm and relaxation (this is an IDEA). Brothers laughed at him – why do you waste your time and money? Look, we are already trading and earning, and you are still investing!
IDEA for business – POSITIONING Idea –
– This is the house made of BRICKS! 
Now, you can ask me: WHY? Let's ask The Big Bad Wolf to help us answer this question.
And here he is – The Big Bad Wolf is coming to have a nice dinner! (In our case, it can be: a crisis, major competitors, and any other external problems) He wants to eat – destroy business – of our brothers.
The Big Bad Wolf and STRAW house – Browny's coffee van business
What The Big Bad Wolf can do in this case? Here are a few options:
A big coffee company starts its own mobile business in the area – cheaper, faster, more varied coffee products;
A couple of small coffee shops open inside this industrial zone – all day delivery straight to the office, possibility to sneak out from work to bring/drink a cup of coffee.
There can be many different reasons why Browny's business might go bankrupt. All those reasons are purely material because customers are not tied directly to Browny's van. Customers are looking JUST for a cup coffee (affordable, good quality, reasonably priced) BUT NOT FOR Browny's business model. 
DONE! The straw house was blown away and the first brother ran away to help the second brother in his eatery.
The Big Bad Wolf and STICK house – Whitey's eatery business
Going further. The Big Bad Wolf went hunting for the second brother. There are already two brothers in one business (and the second house made from sticks) – excellent and booty!. Any ideas what it may be in this case?
A big fast-food chain came to the area (McDonald's, Subway, etc.) – cheaper, faster, more convenient;
Rent prices are up – food becomes more expensive and only wealthy competitors can afford to maintain low food prices;
There are too many small cafes open in the area – the number of customers decreased, revenue fell, and the business began to die.
Again, there are many different reasons – many things that The Big Bad Wolf may do to destroy shaky, fragile business not based on any intangible IDEA. A business that offers its products/service for EVERYONE.
Second DONE! The stick house was destroyed easily and two brothers seek refuge with their third brother – Blacky.
The Big Bad Wolf and BRICK house – Blacky's OASIS OF LOVE
Just reminding you – our third brother worked hard to open his business – an oasis of CALM and RELAXATION. In his cafe, he sells the same products that his brothers sold – coffee, sandwiches, drinks, and hot meals. The Big Bad Wolf came to Blacky's place looking forward to a great dinner. You bet! There are all three brothers there – it will be nosh-up! He has already DONE two businesses: this is the third one – the fattest and tastiest!
But in this case, something went wrong… No matter how hard The Big Bad Wolf tried, he could not think of anything that can beat this place:
Prices – in this case, it doesn't matter, because customers are here not because of the price: they are already paying the premium price 
Quality – Blacky sells the highest quality products
Speed of serving or delivery – people here to relax and enjoy their break, they are not looking for a fast-food solution
Open the identical one – but how you explain to customers that they have to go to the new one instead of a familiar place?
It looks like NOTHING will help The Big Bad Wolf to beat this business! 
WHY?!
Because you can't beat the IDEA! Blacky discovered the IDEA of relaxation, the IDEA of escaping from work (even for a couple of moments), enjoying a pleasant and calm conversation with friends. This is his INTANGIBLE IDEA For Business! He created a LOVE relationship between the business and its customers! This feeling – LOVE – cannot be understood on a rational level. You can't outbid LOVE! Magical sparks that arise between man and woman when they fall in LOVE, can't be explained and copied. The same happens here. Intangible connection – LOVE – between your business and its clients can't be explained rationally, can't be copied and can't be beaten! 
That is why The Big Bad Wolf will NEVER destroy this business idea – he can't beat LOVE! The only thing that he can do – try to find ANOTHER UNIQUE IDEA and make customers FALL IN LOVE with it!
Positioning Idea – Idea For Business – this is the most important ingredient of a successful business. You have to create something INTANGIBLE in between you and your customers in order to succeed in business.
Do you know what LOVE is? And what about UNCONDITIONAL LOVE? Unconditional Love in business is an IDEA, Positioning Idea! You have to position your business in the mind of potential customers in order to grow and prosper. Only in this case, you will not be afraid of any WOLVES, even The Big Bad One! 
That is HOW a well-known fable "The Three Little Pigs" teaches us the art of running a successful business. 
Create a UNIQUE idea, highlight your LOYAL audience, properly POSITION your business in the mind of potential customers and make a PROFIT!
Good Luck!