YES!
Facebook, Instagram and other Social Media are a very powerful instrument of promotion in our days. But like any other powerful thing, it may help you to grow your business or may bury it.
Imagine you buy a modern and powerful car. If you know how to drive – it brings you from A to B very fast and comfortable. But…. If you don't know how to drive or you a really bad driver? The huge probability that your trip will end in the nearest (or the next one) ditch. That is why people hire driver instructor and have several driving lessons before they start driving themselves. Or they hire a professional driver who will drive them around.
The same is with Social Media. If you don't know the matter, you newbie on this market – better not to start by yourself. There are 2 ways:
Go through different courses and become a new professional 
Hire a professional to do a Social Media job
Both ways are good, but think about this: 
You are a business owner. You created your business, you are professional in what you doing. Would you rather learn accounting, marketing, advertising, law, etc. or you'll hire professionals who know how to do it? And leave for yourself YOUR BUSINESS? Concentrate on what you know better, what you LOVE and want to do! Outsource other problems and obstacles to professional. It will be much more efficient!
Sorry for the long intro, now we come to the main topic of this post – Social Media Marketing Strategy.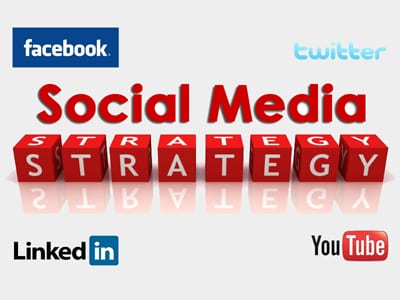 This startup package includes:
Business analysis
The thing to start with – we have to understand your business as deep as we can. Your business is your baby. You create it, you raise it, you care about it! Share your experience with us. Without this knowledge we can't help you to promote your service/goods correctly
Competitor analysis
You are not alone here on the Earth. Someone else also doing something similar. Show us your competitors and we'll check what they do. We have to know this in order not to copy/paste the same ideas.
Goal settings
We have to know: WHERE do you want to go? What is your starting position? What do you want to achieve? Brand awareness, more sales, leads or other possible outcomes. Based on this information we can Crete YOUR PERSONAL ROUTE TO SUCCESS from A (now) to B (your prosperous future)
Positioning idea
What is your UNIQUENESS? How you can stand out from the crowd? How to reach the mind of potential clients? All these questions should be answered before we start the campaign. Answers for these questions give us an opportunity to create a UNIQUE IDEA for your promotion.
Promotion program
It includes: recommended Social Media channels, series of images and texts, schedule of posting, result tracking and monitoring methods.
That is pretty much all. Something missing? Ahhhhh, yes, one small detail – price.
Just
$388 
for your personal
ROUTE TO SUCCESS
Ready to order?
Write to us profit@infinityofprofit.com
Or give us a call +614 66 593 676