Local, National and International Moves
Interesting idea: why not get your share of dividends from this world-famous name?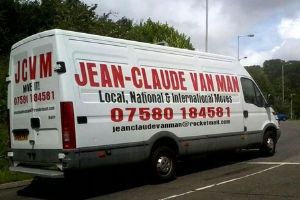 Let's put aside copyright issues (maybe, Jean-Claude their relative). But try to recall his films. He crushes all around including people, buildings, furniture.
Do you want to entrust your personal belongings to this man?
Do you want him to move your furniture?
At one blow?
Are you sure? 
I would prefer someone not so famous but more trustful in moving business. This is a good example when a well-known name may do you very bad service.
Think, think, think.
Not always all means are good